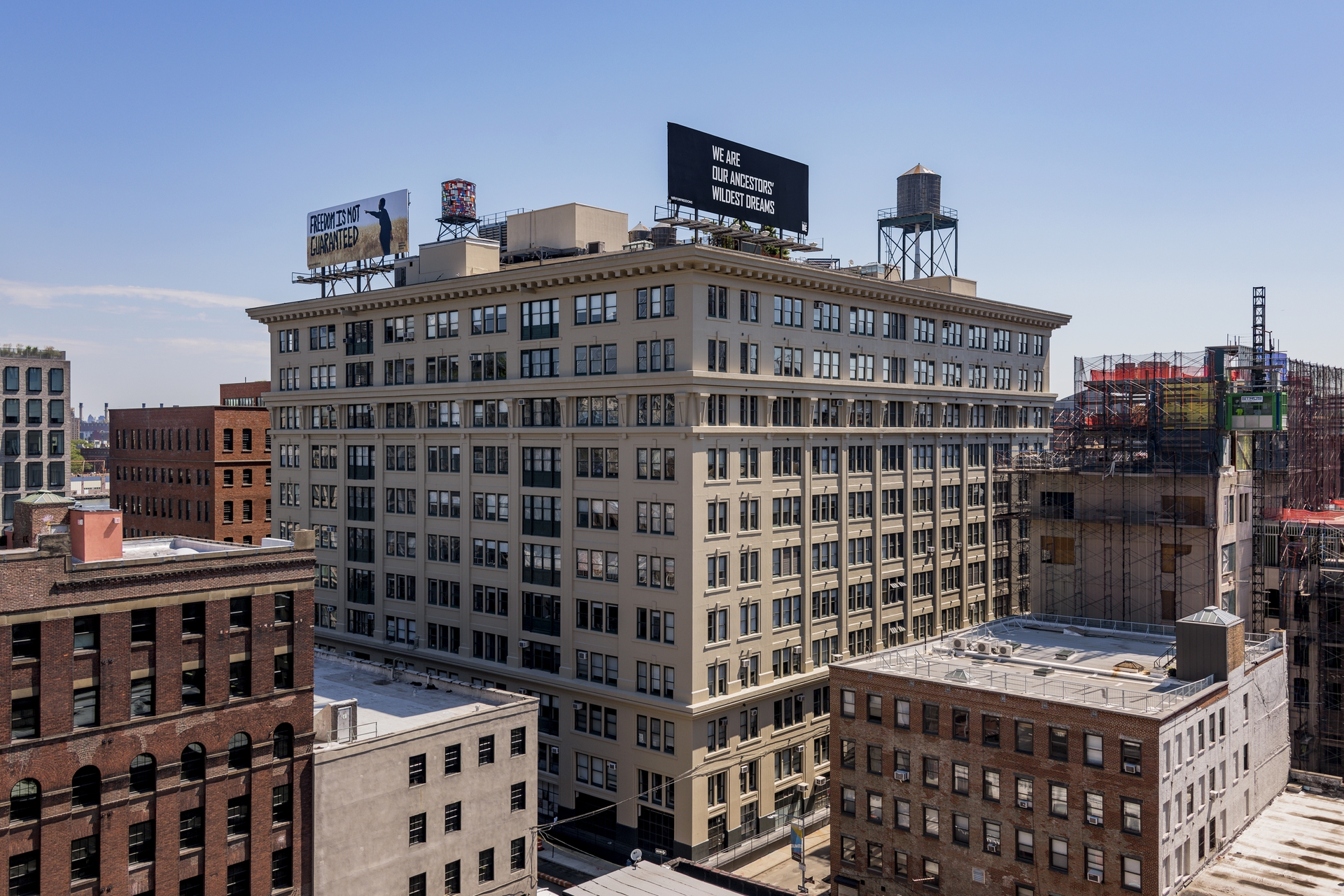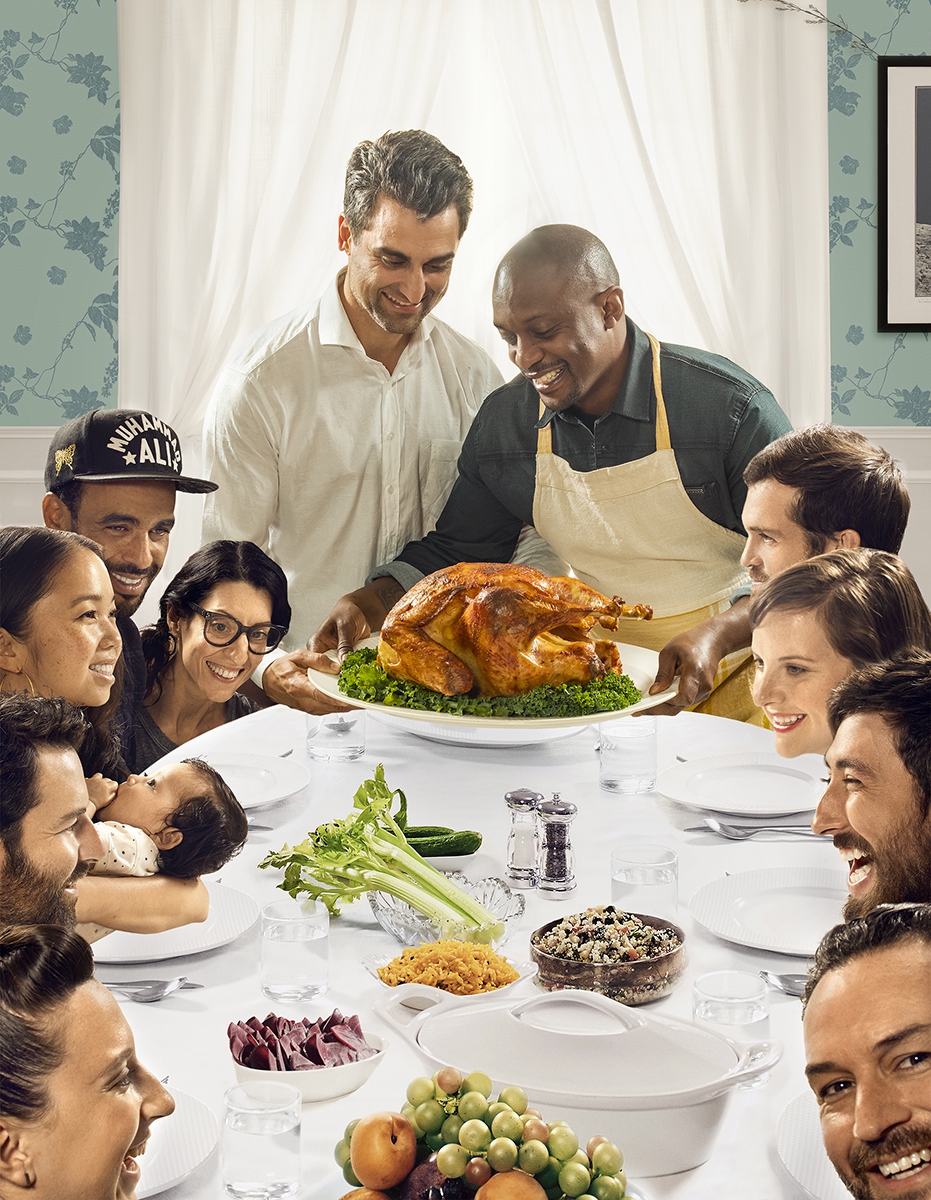 Hosted by
For Freedoms
Two Trees Management x For Freedoms Billboards
Description
In Partnership with Trees Management Co, For Freedoms presents work by renowned artists Xaviera Simmons and BMike. Xaviera Simmons, Freedom Is Not Guaranteed (2018) and BMike, We Are Our Ancestors' Wildest Dreams (2020), will be displayed at 20 Jay Street in DUMBO, Brooklyn, from July through September, 2020.
Simmons' artwork is one of a series of photographs that investigate our contemporary political landscape. The piece shows a figure gesturing in a field, an art historical reference that figures greatly in the artist's work. Text painted at the top of the image reads: "Freedom is not guaranteed." Recognizing that for Black descendants of North American chattel slavery, freedoms have been captured only through great struggle, this work points to the founding structure of the United States, the legacy of slavery, the construction of race, the failure of emancipation, and how they continue to affect our lives today. This piece was originally displayed in South Dakota as a part of For Freedoms' 2018 campaign, the 50 States Initiative.
BMike's artwork invokes a theme prevalent in Black American writing. The piece displays the text, "I am my ancestors' wildest dreams," echoing Langston Hughes' words, "What happens to a dream deferred?" and Maya Angelou's couplet, "Bringing the gifts that my ancestors gave, I am the dream and the hope of the slave." Extending this tradition, BMike's work is an expression of pride and a tribute to the strength and endurance of the Black Americans. While celebrating Black lives today, this work summons the defiance that envisioning Black futures often requires.
The work can be seen from the street, as well as from the Brooklyn and Manhattan Bridges.
Xaviera Simmons received her BFA from Bard College (2004) after spending two years on a walking pilgrimage retracing the Transatlantic slave trade with Buddhist monks. She completed the Whitney Museum's Independent Study Program in Studio Art (2005) while simultaneously completing a two- year actor-training conservatory with The Maggie Flanigan Studio. She is a visiting lecturer and the inaugural 2019 Solomon Fellow at Harvard University and will be awarded The Charles Flint Kellogg Award in Arts and Letters from Bard College in Spring 2020. Simmons has exhibited nationally and internationally where major exhibitions and performances include The Museum Of Modern Art, The Studio Museum in Harlem, The Contemporary Arts Museum Houston, The Public Art Fund, The Sculpture Center, The Aldrich Contemporary Art Museum, Museum of Contemporary Art Chicago, Institute of Contemporary Art Boston, and Brooklyn Museum, among many others.
Brandan "BMike'' Odums is a New Orleans-based visual artist who, through exhibitions, public programs, and public art works, is engaged in a transnational dialogue about the intersection of art and resistance. After graduating from the New Orleans Center for Creative Arts, BMike worked as a filmmaker, creating original content through 2-Cent Entertainment, LLC and directing music videos for hip-hop artists like Curren$y, Juvenile, and Yasiin Bey (Mos Def). He began experimenting with the graffiti in 2012. BMike's murals appear across New Orlean, New York City's Times Square, a men's prison in Southern California, the San Carlos Apache Reservation in Arizona, and on the streets of Atlanta, Miami, Detroit, Jersey City, and along border walls of the West Bank. The recipient of an NAACP Image Award, BMike has lectured at the Aspen Institute, TED conference, and many prestigious universities.